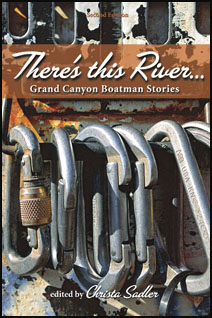 Purchase Online
Edited by Christa Sadler
This often hilarious, occasionally bittersweet and always entertaining collection of stories and artwork was first published in 1994. The new and expanded edition maintains the integrity of the first edition, and adds several new stories and art pieces, all products of the river guiding community in Grand Canyon. This edition was reviewed in the August 21, 2006 issue of High Country News.
ISBN 0-9776983-0-0
Paperback; 6 x 9 inches;
264 pages with 24 full color plates
17.95 (Arizona residents add 8.951% tax)
Shipping: $3.50 per book USPS media mail (not applicable to Alaska, Hawaii or overseas. Please contact me for shipping prices to these locations.)

A river trip through the Grand Canyon is one of the great experiences of a lifetime, and every river trip is filled with stories.
There's This River… Grand Canyon Boatman Stories
tells the tales of this experience and this landscape from the perspective of the boatmen who spend their lives guiding people down this river.
First published in 1994, There's This River has become an indispensable addition to any library for those interested in the Grand Canyon, the Colorado River, or just plain great storytelling. This expanded second edition includes all the old favorite stories and artwork, and updates the collection with many new pieces.
You'll read about the fastest rowing trip through the canyon on the high water of 1983, and about Eleanor, who found a strength she never knew she had. From heroism in flash floods and rescues in rapids, to encounters with bighorn sheep and red-tailed hawks, this collection ranges from hilarious to bittersweet. These stories will have you laughing and crying, laughing again–and ready to head downstream.
List of Contributors:
George Bain, Jeff Behan, Elizabeth Black, Steve Bledsoe, Lowell Braxton, Dugald Bremner, Mathieu Brown, Ghia Burch, Tim Cooper, Ote Dale, Brad Dimock, Dave Edwards, Kent Erskine, Matt Fahey, Kyle George, Geoff Gourley, Creek Hanauer, Tom Hansen, Charly Heavenrich, Hancy Helin, Tom Janecek, Nathan Jones, Sam Jones, Coby Jordan, Lisa Kearsley, Rebecca Lawton, Teresa Yates Matheson, Bob Melville, Shane Murphy, Raechel Running, Joel Russell, Christa Sadler, Lew Steiger, Larry Stevens, Marieke Taney, Kate Thompson, Scott Thybony, Ellen Tibbetts, Vince Welch, Mary Williams, Tyler Williams, Allen Wilson, Pete Winn.
From the Introduction:
There are several hundred men and women who presently work, part or full-time, for the fifteen commercial companies in Grand Canyon. There are many who no longer work in the canyon as guides, but remain here in their hearts. I have come to respect these people more than any I've ever met. They are a unique bunch, not given to following or joining, yet despite themselves they've become a community. They are raunchy, rowdy and kind. They are some of the most talented people I know. They can take a thirty-seven-foot motor rig through a rocky rapid at low water, or guide a tiny paddleboat through the giant waves of Lava Falls without missing a stroke. They can cook the best food you've ever eaten, bandage a wound, set up a tent during the rain in record time, play the guitar, sing opera, patch a seven foot rip in the boat while still grinning. In their other lives these people are teachers, doctors, psychologists, ski instructors, carpenters, artists, moviemakers, technicians, photographers, masseurs, scientists. Good people to have on your side.
And they can tell stories! There are a couple of jokes that every passenger hears within the first day or so of a river trip: "How can you tell if a boatman is lying? His lips are moving." "What's the difference between a fairy tale and a boatman story? A fairy tale begins with 'once upon a time' and a boatman story begins with 'no shit, this really happened!'" We joke about it, but stories are the butter for our bread. The river community has a strong storytelling tradition, like the Native Americans and many other cultures. We pass on our lives to the next generation through our tales. Our stories are our way of learning, bragging, hearing about our world. We teach each other with our stories. We find out what hike not to do in mid-July, or where that great hidden camp is that's perfect for a small group. We learn about new runs in rapids, we mourn some of the mistakes of our friends, we laugh at others. Our stories make us a community. And this community is tight knit, for we have a powerful common thread that binds us: the river.

Now available
ISBN 0-9776983-0-0
Paperback; 6 x 9; 264 pages
Over 35 illustrations (24 full color plates)
$17.95 (Arizona residents add 8.951% tax)
$3.50 shipping and handling per book (USPS media mail)
Purchase Online
Order Online, or send a check or money order to:
This Earth Press
P.O. Box 22130
Flagstaff, Arizona 86002 USA
(928) 380-5538

RETAILERS: you can also order from the following distributors:
Partners West Distributing
1901 Raymond Ave. SW
Renton, WA 98057
Stacey Carr (425) 227-8486
Books West
18101 E. Colfax Ave.
Aurora, CO 80011
Susan Bhat (303) 449-5995
Treasure Chest Books
P.O. Box 5250
Tucson, AZ 85703
(520) 623-9558