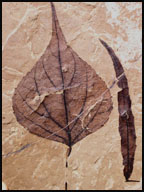 The following are only a few sample programs that can be given to students of all ages and background. These will work in various formats, including slide presentations, group discussion, interactive displays and activities, field trips or any combination thereof, depending on the group size and the time available, as well as the subject matter and age of the students involved.
Please note that This Earth can provide programs on any geological or paleontological topic (we've done glaciers and groundwater, caves and volcanoes, plate tectonics and geologic time, rocks, minerals and maps, to name a few). This Earth can design short courses and field trips to a school's or an organization's specifications, and for K-12 teachers. This Earth programs can be designed to fit state educational standards. Please contact me for details.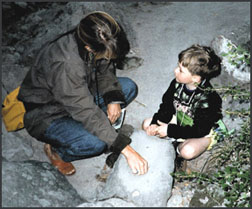 GROUP SIZE
The optimal group size for any hands-on and interactive program is around 20 students, although arrangements can be made for larger groups. Slide presentations can be made to groups of any size, from five to 500, and more.
TIME REQUIREMENTS
The minimum amount of time required for each program is listed following the name of the program.
In all cases, This Earth programs are related as much as possible to the geology of the local area, so that students begin to understand their own region's history and stories as well as the larger story of the Earth.